Doctors Office
Fort Loudoun Primary Care
Hours
Fort Loudoun Primary Care Walk-In Clinic
423 Medical Park Drive Suite 600
Lenoir City, TN 37772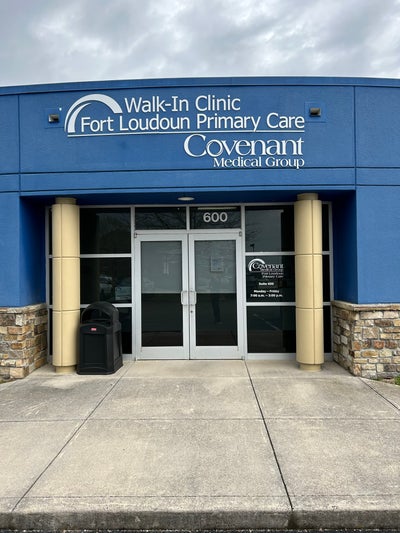 Patient Tools
Get started with some of our online patient tools.
About Fort Loudoun Primary Care
At Fort Loudoun Primary Care, we specialize in the treatment of the whole patient across all stages of life – from age-appropriate immunizations, wellness exams, and acute illnesses like cold & flu, to caring for your chronic health conditions like diabetes and high blood pressure. With more than 30 years of of combined medical experience, our expert healthcare team is ready to provide you with excellent care. We're proud to be a member of Covenant Medical Group, the physician practice group of Covenant Health.
"I love family medicine! The thrill and reward of being the 'family doctor' comes from the close bond I develop with my patients and their families, sharing their trust, respect, and friendship. I look forward to serving the people of Lenoir City and the surrounding areas." – Dr. M. Radford Moore
Schedule an Appointment
Our team is ready to provide you with the right primary care when you need us. We're accepting new patients of all ages. And our walk-in clinic is available for anyone to use.
Patient Forms
Electronic Registration Forms
In order to provide you with the most efficient visit with us, we are going to email you a secure, personal link to complete your registration forms a week prior to your appointment, so please be on the lookout and submit those before you visit.
If you forget to fill out the forms electronically, you can download the forms below and fill them out ahead of your appointment and bring them with you. Thank you!
Patient Information Form
download
Patient Health History
download
Patient Registration Agreement
download
Authorization to Release Health Information
download
Notice of Privacy Practices
download
Visit Reminders
We ask that you please arrive at least 30 minutes prior to your scheduled appointment. Please bring the following items with you to your visit:
Your current health insurance information

Your current Photo ID

Any medications you are currently taking in their original containers or in a list with dosages and times
Please note: In order to provide efficient care for all of our patients, you may be asked to reschedule your appointment if you do not arrive at least 30 minutes early.
Prescription Refills
Please submit prescription refill requests through your local pharmacy. If you need to request a refill through our office, it's very important that you request your prescription refills during normal business hours before 4:30 p.m. Monday-Friday. Prescriptions will not be refilled on weekends or holidays. Please allow two to three business days to process your request.
You can request a refill on the MyCovenantHealth Patient Portal or by calling our office.
Go to MyCovenantHealth
Online Scheduling for Our Walk-In Clinic
We offer the option to hold your place in line at our walk-in clinic. We'll reserve your place in line so that you can wait comfortably at home until your estimated visit time.
Schedule Online
Patient Survey
Our Patients Are Important
We want to be your first and best choice for healthcare, and we need your feedback.
You will receive a text message or email asking you to complete a confidential and secure survey about your visit. Your feedback will help us continue to deliver excellent care. Thank you!
Had a Great Experience? Leave Us a Google Review!
How to leave a review:
Go to Google.com and search for Fort Loudoun Primary Care
When our page listing appears, go to the Review section and click "Write a review"
Leave a Review
Patient-Centered Medical Home
Fort Loudoun Primary Care is proud to announce that we are recognized by the National Committee of Quality Assurance as a Patient-Centered Medical Home. Our team works hard to earn and maintain this recognition, and we're thrilled to share what this means for our patients!
What is a Patient-Centered Medical Home (PCMH)?
It's exactly what the name implies! We will keep our patients as the main focus of everything we do to help build better relationships, improve quality of care and patient experience. We've implemented process improvements and quality initiatives to ensure you have access to comprehensive, coordinated care and the medical services you need.