New Mixed-Reality HologramTechnology in Shoulder Surgery
Less than a year after having his left shoulder joint replaced at Parkwest Medical Center, Will Pendergrass of Knoxville is ready to have the right side done as well.
"My appointment is this month, so we're starting the process," said Pendergrass, 72. He is a meteorologist who uses a computer all day.
"I type with two fingers, which puts a great deal of motion in your shoulders," he says. "For years, at the end of the day, my shoulders would hurt. Before my first surgery, I heard all the horror stories about shoulder surgery, but I haven't had a bad
experience since the process began. I just didn't experience much pain at all, and I attribute that to the procedure Dr.
Kennon used."
In November 2022, Justin Kennon, MD, a fellowship-trained shoulder specialist and orthopedic surgeon at Parkwest, performed a reverse shoulder arthroplasty on Pendergrass. This means the ball and socket joint in the shoulder were replaced with artificial parts, but in reverse locations, a relatively new and better approach for patients with rotator cuff injuries.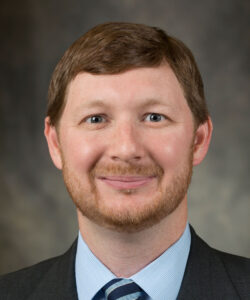 The surgery was performed using a new virtual reality technology platform at Parkwest called Blueprint ® Mixed Reality. The technology involves a headset similar to a virtual reality video game. Through it, Dr. Kennon can reference and interact with a 3D holographic image of the patient's shoulder prepared ahead of time. During the procedure, real time images are overlaid on the holographic image as Dr. Kennon makes precise adjustments to the shoulder implant. He can view, measure and manage every move without taking his eyes off the surgical field.
"I compare it to a heads up display for a fighter pilot," said Dr. Kennon. "The pilot has to land the plane with access to real time data, without taking your eyes off the target. Much like virtual reality has changed sports training and gaming, this type of technology allows us to see and place the patient's implants with unmatched precision, for a patient-specific and perfect placement.
"Combined with other surgical technologies, as well as nerve blocks and better pain management, patients are having an easier shoulder surgical experience than they were 10 years ago," said Dr. Kennon.
Pendergrass said his procedure and recovery went very smoothly, and he is thrilled he did it.
"For the surgery, I was there first thing in the morning, and we were home by right after lunch," said Pendergrass. "I was in a sling for 10 days and followed that with an aggressive course of physical therapy."
Pendergrass said he would recommend Parkwest Medical Center and Dr. Kennon to anyone facing shoulder surgery.
"My experience at Parkwest Medical Center was just outstanding. I used to volunteer in the surgery waiting room at Parkwest, but this was the first time I had surgery there. It was outstanding, from the moment we showed up till we left. It was great. I like the innovative approach Dr. Kennon takes."
Since surgery, Pendergrass said he has regained full movement of his left arm.
"I have not found limits to my range of motion. There are limits to how much weight I can pick up, but I have full range of
motion," said Pendergrass.
Dr. Kennon said the new 3D technology is just one of many improvements in shoulder surgery in the last few years.
"I would say fundamentally these types of technologies allow us to perform at a higher level as surgeons and provide better
patient care."
Parkwest is First-in-State to use 3D Mixed Reality in Shoulder Replacement
Parkwest Medical Center, a member of Covenant Health, became the first medical center in the state of Tennessee to perform a shoulder arthroplasty (joint replacement procedure) with the assistance of a new technology platform called Blueprint® Mixed Reality in late 2022. This innovative software solution allows shoulder arthroplasty surgeons to reference and interact with a holographic representation of their pre-operative plan in real time during surgery.
Justin Kennon, MD, is a board-certified and fellowship trained orthopedic surgeon who specializes in shoulder and elbow surgery. Dr. Kennon has prepared more than 30 orthopedic publications and presentations and has achieved multiple awards and accolades for his work. As an early clinical evaluator, he has been able to bring this advancement to Parkwest Medical Center and will help shape how the technology is integrated into future operating rooms.
Parkwest's orthopedic teams use a combination of 3D mixed reality, computer-assisted shoulder replacement and patient-specific custom shoulder replacement. Dr. Kennon uses each of these technologies separately and collaboratively to find the right solution for each patient. The new mixed reality technology is unique for both anatomic total shoulder replacement and reverse total shoulder replacement. Parkwest is one of only 33 sites in the nation offering the technology to patients during a limited-release period.
"The mixed reality 3D technology allows me to tailor shoulder replacement procedures to the unique needs and anatomy of my patients," said Dr. Kennon. "This, in turn, gives me the potential to perform a more precise and personalized shoulder replacement compared to traditional surgical options."
For more information, visit TreatedWell.com/orthopedics.